Boneless Full Body Trainer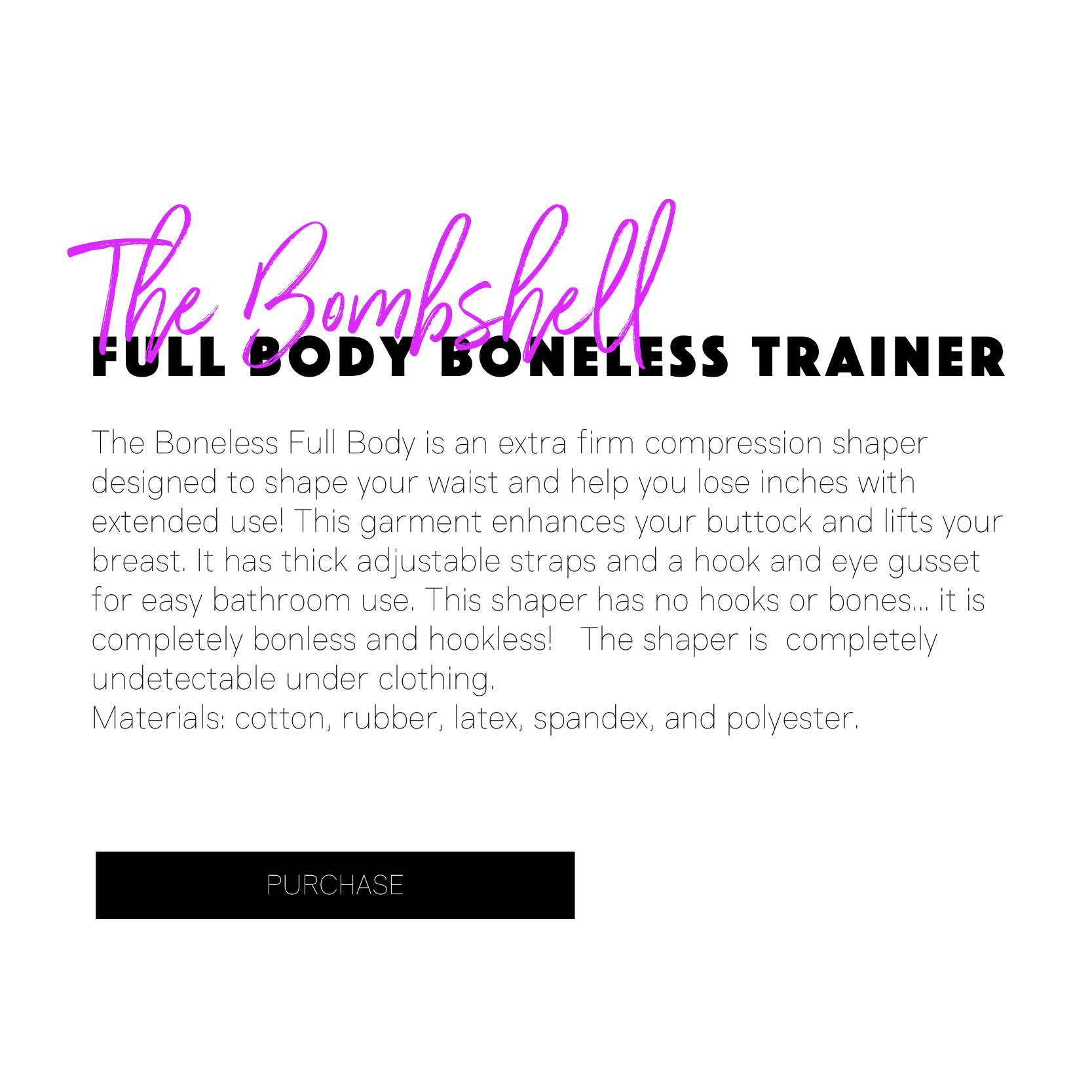 Boneless Full Body Trainer
* Size Large will start shipping 10/18/19
The Boneless Full Body is an extra firm compression shaper designed to shape your waist and help you lose inches with extended use! This garment enhances your buttock and lifts your breast. It has thick adjustable straps and a hook and eye gusset for easy bathroom use. This shaper has no hooks or bones... it is completely bonless and hookless! The shaper is completely undetectable under clothing. Materials: cotton, rubber, latex, spandex, and polyester.
This shaper is best for those who have a low hanging stomach, fupa, or mothers appron. This is great for those who want to slim the waistline as well as the lower stomach area.
This garmet has been desinged to specifically target the lower pooch area. The added bonus is that is lifts the buttock and breasts instantly giving that true bombshell appearance. It also comes all the way up the back to smooth any back fat or rolls. This is the perfect shpaer to wear under those tight bodycon dresses!
For maximum results you must wear your garmet 8-10 hours daily! Please season your garmet by starting off with 2-3 hours daily for the 1st week, 4-6 hours the 2nd week, and then 8-10 hours the 3rd week and beyond. Remember your garmet will stretch and become more comfortable with extended use.
Please remember this garmet is a maximum garment design to help you lose inches off of your waist with extended use. Consistency is the key!
FAQ
Are there returns, exchanges, or refunds?
Unfortunately NO… as this is an intimate item and we cannot guarantee that the item is not used.
How long is processing/shipping?
Processing Time: 2-3 Business Days
Shipping 2-3 Day Delivery for Domestic Orders…….. International Orders are delievered in 6-10 Days
What if I accidentally provide the wrong address?
Once the item is returned to sender. You will be contacted via email for the correct postal address and prompted to pay the $12 shipping fee again!
How often should you wear your waist trainer?
At least 5-6 days a week for optimal results. If you can wear your trainer everyday you will get optimal results quicker.
How many hours should I wear my trainer daily?
8-12 hours daily for optimal results. Start with 4 hrs and work up to 10 over the course of 2 weeks.
Can I sleep in my waist trainer?
Yes.
How do I wash my waist trainer?
Clean with soapy water and a wash cloth. Wash by HAND ONLY. Never put your trainer in the washer or dryer due to the latex lining!
I'm in between the sizes on the sizing chart… what size should I get?
Choose your current size!